1.5 euro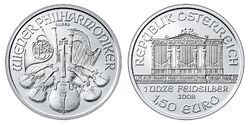 Coin from 2008
General information
Country

Austria
Value
€1.50
Years
2008–present
Measurements and composition
Mass
31.103 g
Diameter
37 mm
Thickness
3.2 mm
Composition
silver
Appearance
Shape
round
Alignment
medal
Edge
smooth
Obverse
Organ from the Musikverein, silver purity, state title, value, year
Reverse
Instruments
v · d · e
The 1.50 euro coin is a bullion coin that has been issued by Austria since 2008. It is the lowest denominated coin of the Vienna Philharmonic coins and is the only silver piece in the series. In 2012, the piece won Krause's Most Popular Coin of 2010.
The coin is composed of .999 fine silver (99.9% silver, .1% copper), weighs approximately 31.103 grams, and measures 37 millimeters in diameter and 3.2 millimeters in thickness. It uses medal alignment, bears a smooth edge, and is circular in shape. Like the other Vienna Philharmonic pieces, it was designed and engraved by Austrian sculptor and mint official Thomas Pesendorfer (1952–). Featured in the center of the obverse is the organ from the Musikverein concert hall in Vienna. The German state title "REPUBLIK ÖSTERREICH" (English: "Republic of Austria") is engraved above the organ around the coin's periphery, while the purity "1 UNZE FEINSILBER" (English: "1 ounce fine silver") is featured directly below the keyboard instrument. The date is printed in small text under the indication of the purity, and the value "1,50 EURO" is present at the very bottom of the obverse, arched around the rim. An assortment of musical instruments used by the Vienna Philharmonic orchestra is depicted on the reverse, including a cello, four violins, a harp, bassoon, and Viennese horn. Featured above the instruments is the arched inscription "WIENER PHILHARMONIKER" (English: "Vienna Philharmonic").
The coin's mintage each year is dependent on the number of pieces demanded. From 2008 to 2011, a total of about 45,973,700 examples was produced.
References
[
]
Most Popular Coin
2009
Austrian 10 euro coin
(2011)
←
2012
2011
Mongolian 500 tögrög coin
(2013)
→