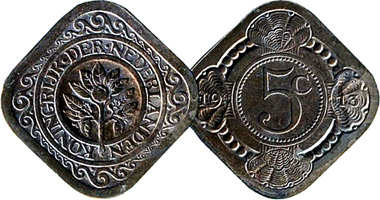 Netherlands 5 Cents 1913 to 1943
These neat square coins, with inscription KONINGRIJK DER NEDERLANDEN (Kingdom of the Netherlands, sometimes with krijk instead of grijk), were minted from 1913 to 1943.
If you have a coin which looks very similar to this one, but is dated after 1943, click to this CoinQuest page.
Here are some typical catalog values for coins with the KONINGRIJK inscription. Use our Important Terminology page to properly interpret these values. They may not be what you think they are!
COINS BEFORE 1932:
worn: $3 US dollars approximate catalog value
average circulated (like our picture): $5
well preserved: $20
fully uncirculated: $60
COINS BETWEEN 1932 AND 1936:
worn: $20 US dollars approximate catalog value
average circulated (like our picture): $40
well preserved: $70
fully uncirculated: $100
the 1933 coins are the best value: cataloging for $150 in average circulated condition
COINS BETWEEN 1937 AND 1942:
worn: $5 US dollars approximate catalog value
average circulated (like our picture): $10
well preserved: $30
fully uncirculated: $45
COINS DATED 1943:
worn: $3 US dollars approximate catalog value
average circulated (like our picture): $6
well preserved: $15
fully uncirculated: $20

Coin: 6624, Genre: Colonizers and Colonies, Timeline: World

Created (yyyymm): 201100, Last review: 201508

Appearance: Square or rectangular shape Metallic gray Letters: Latin

Years: sort: 1913, filter: 1913 to 1943

Image: netherlands_5_cents_1913.jpg

Original inquiry: rounded square koningrik der nederlanden with small plant; 5c surrounded by shells palm square koningrijk nederlanden koninkrijk shell shells holland julianna shell flower fleur leaves leaf tree palm pine oak circle ring scroll scrollwork wave waves