10 cents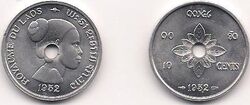 General information
Country

Kingdom of Laos
Value
₭0.10
Years
1952
Measurements and composition
Mass
1.32 g
Diameter
23 mm
Thickness
1.8 mm
Composition
aluminum
Appearance
Shape
round with circular hole
Alignment
coin
Obverse
Woman, state title, year
Reverse
Flower, value, year
v · d · e
The 10 cent coin is a coin that was issued by the Kingdom of Laos in 1952, during the reign of King Sisavang Vong. With a value of only 0.10 kip, it was the lowest valued Lao coin in circulation at the time.
History
[
]
The coin is composed of aluminum, weighs approximately 1.32 grams, and has a diameter of 23 millimeters and a thickness of 1.8 millimeters. It uses coin alignment and is round with a circular 3 millimeter hole in its center. The edge is smooth, or plain. Both sides of the coin were designed by Lucien Georges Bazor, the Chief Engraver of the Paris Mint at the time of minting. Featured in the center of the obverse is an image of a Lao woman facing right. The French state title "ROYAUME DU LAOS" (English: "Kingdom of Laos") is inscribed along the coin's left periphery to the left of the depiction, while the Lao title "ພະຣາຊະອານາຈັກລາວ" (Romanized: Phra Ratxa Anachak Lao) is printed along the right rim. Featured at the very bottom of the coin is the year of minting, and present at the top is the wing privy mark of Georges Bazor. A flower design is displayed in the middle of the reverse. Engraved above the illustration is the date written in Lao numerals as "໑໙໕໒", and printed below it is the year in Western Arabic numerals, flanked by the cornucopia mint mark of Paris. The coin's value is written twice on the reverse, first as "໑໐ ອັດ" in Lao and then as "10 CENTS" in the Latin script. In total, approximately 2,000,000 examples of this coin were produced at the Paris Mint.
An essai and piedfort essai of the coin were also produced in 1952. The only stylistic difference is the presence of the word "ESSAI" between the flower and the Arabic numeral date on the reverse. Only 1200 standard essais and 104 piedfort essais were minted.
See also
[
]
References
[
]
v
·
d
·
e
Lao kip
Coins
10 c • 10 a •
20 c
•
20 a
•
50 c
•
50 a
•
₭1
•
₭5
•
₭10
•
₭20
•
₭50
•
₭100
•
₭500
•
₭1000
•
₭1200
•
₭2000
•
₭2500
•
₭3000
•
₭4000
•
₭5000
•
₭8000
•
₭10,000
•
₭15,000
•
₭20,000
•
₭40,000
•
₭50,000
•
₭60,000
•
₭80,000
•
₭100,000
•
₭1,000,000
Banknotes
10 a
•
20 a
•
50 a
•
P/₭1
•
₭1
•
P/₭5
•
₭5
•
P/₭10
•
₭10
•
₭20
•
₭50
•
P/₭100
• ₭100 •
₭200
•
₭500
•
₭1000
•
₭2000
•
₭5000
•
₭10,000
•
₭20,000
•
₭50,000
•
₭100,000
Miscellaneous
Att
•
Bank of the Lao People's Democratic Republic
•
Bank of Laos
•
Cent
•
French Indochinese piastre
•
Institut d'Emission des Etats du Cambodge, du Laos et du Vietnam
•
Lao Issara
•
Pathet Lao