About a month ago, I experienced one of the worst breakouts of my adult life.
My skin had been relatively clear for a few months, minus a hormonal zit here and there, and I was starting to think about incorporating a retinol to treat acne scarring. It finally seemed like my skin had calmed down enough and I was ready to take the next step towards truly clear skin.
Of course as soon as the thought entered my head, my acne came back with a vengeance. 
It was probably a combination of stress, travel, and the temperamental weather in New England – whatever it was, it did a number on my skin. The entire bottom half of my face was broken out in painful cystic acne that just wouldn't go away, no matter what I did.
After all my tried-and-true hacks failed me, I decided I needed to try something new. Enter The Ordinary Salicylic Acid 2% Solution. 
The Stats 
Product
The Ordinary Salicylic Acid 2% Solution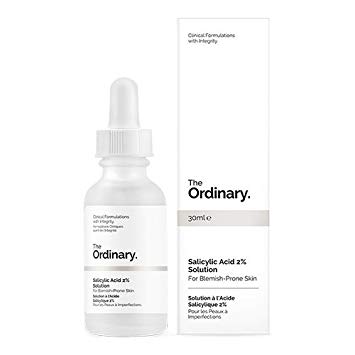 Price 
$5.30/1oz (Sephora)
Claims
"A two percent salicylic acid treatment solution with witch hazel for blemish-prone skin." (via sephora.com)
My Review
Application
This "solution" is more like a serum, with a thin, runny texture. A little goes a LONG way so I only use about 2 drops to cover my whole face, or just 1 drop on problem areas. When applied it has a slightly sticky texture, but it dries down quickly and I've had no problem applying makeup over it. 
Packaging
The Ordinary salicylic acid serum comes in the same glass dropper bottle that most The Ordinary products come in, which is simple, no-frills, and effective. It's also pretty good for travel.
Results
I was a little nervous to start using this product – I'd seen rave reviews of it online, but I'd also read that it can cause purging for up to 6 weeks, which I was not down for. I started off using just a drop directly on my breakouts at night, then worked up to using 2 drops twice a day all over my face. Immediately my skin started to purge, but I stuck it out and after about a week and a half, the purging ended and my breakouts started to magically disappear. 
Beware dry skinned readers: This is definitely a drying product. Salicylic acid dries your skin from the inside, which is great for fixing blemishes quickly, but decidedly not great for dry skin. Since my skin is combination, to combat this I buffered the product with the Glossier Super Pure serum (budget dupe: The Ordinary Niacinamide + Zinc Serum) and applied a moisturizer on top during the day and a facial oil on top at night. As a result, my skin hasn't felt dried out at all. 
After 3 weeks of using this product regularly, I've noticed a significant improvement in my acne. The massive breakouts I was experiencing have gone away, and when new pimples pop up they disappear within a day. I'm still left with significant acne scarring, but that isn't what this product is meant to treat so I'm not upset about it. Once my acne has cleared up a bit more, I'll start tackling the scarring with glycolic acid and lactic acid products like the Drunk Elephant T.L.C. Framboos Glycolic Night Serum (my holy grail – check out my review). 
Bottom line: Will repurchase
For such a low price, you get a ton of product and a little goes a long way, so this little bottle will last me forever. When I do eventually run out, I will definitely be repurchasing it. Even though it can be a little drying, this 2% salicylic acid solution is much gentler and less drying than the 2.5% benzoyl peroxide spot treatment I had been using before, so I much prefer it. 
Overall, The Ordinary Salicylic Acid 2% solution is a great option for people with acne-prone sensitive skin who are on a budget and don't want to pay big bucks for an effective acne treatment. Another holy grail product from The Ordinary added to my arsenal!