Main – How to Play
Note: This link takes you to Zynga's website –
Zynga's instructions for How to Play
Scoring
Build your statistics by collecting 30, 50, 75, and 100 point turns
30 Points
50 Points
75 Points
100 Points




Dictionary
Words with Friends uses a special custom Dictionary of over 200,000 words. Please click the link for more details.
Awards
Receive awards for achieving daily and contest goals
Daily Goals
Daily awards are commonly gold coins, incremented 1 gold, 2 gold, to 3 gold per day as long as you check in every day (or it resets).
For each daily check in, you can watch a brief commercial for 3 more gold coins.
See the following screenshot for an example of daily goals
Special Contests Goals and Awards
See the following pictures for examples of daily awards
Weekly Goals
WWFs has weekly goals which require that you collect points by playing regular games. The more games you played last week (the more points that you accumulated), the more points that will be added to your goal for the current week.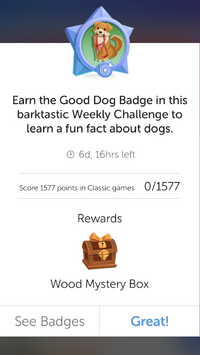 Achievements
Zynga added Achievements to Words With Friends on 7-7-2019. Please click the link for more details.
Occasional special contests
Zynga sometimes runs special events that allow you to collect points towards tiered awards.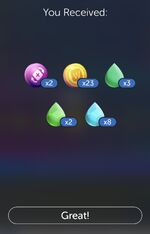 Mobile Phone
Splash Screen
Event Title
Event Type
Weekly Goal
Weekly Challenge
Weekly Goal
Solo Challenge
Word Wheel
Mini Game
Quick Play
Mini Game
In-Game Helpers (Powerups)
Words With Friends has 4 different 'Powerups' that can be played during a match (3 to be used before you make your move, 1 only applicable after you've taken your turn) that you can purchase from the in-game 'Store' with 'Coins' (the in-game currency) – 'Coins' can be purchased with real money (In-App Purchases), or earned through Mystery Boxes as noted above. Powerups can also be earned from Mystery Boxes.
The 4 types of 'Powerups' are as follows:
Swap+
Swap+ allows you to swap any number of your available tiles – for a random selection of new ones from whichever tiles are left in the 'Tile Bag' – without sacrificing a turn. You can only use 1 Swap+ per turn, so it might be wise to check the 'Tile Bag' to see what's left before swapping your tiles.
Word Radar
Word Radar highlights all the places it is possible for you to play a word using your current tile set. You can turn the highlighted areas off and on by clicking the 'Word Radar' icon again, without it deducting from your available quantity. If you swap any tiles out this will deactivate the Word Radar and activating it again will deduct from your available amount.
Hindsight
Hindsight is the only 'Power up' that is to be used after you have already taken your turn. It shows you the highest scoring move that was available to you. If the Hindsight icon is greyed out after you have taken your turn, this is because the move you played was the highest scoring move available – good job!